Undergraduate Neill Places Third at STEM Conference
Mon, 11/05/2018 - 5:17pm
The STEM Conference took place over the weekend at Lamar University. The conference is a place for undergraduate students in the Louisiana/Texas area to present their research in an effort to improve STEM education.
Four undergraduate students presented their research including Madison Neill on Electrospinning chamber for cardiovascular tissue replacements, John Thomas Frank on Modular DLP SLA system with modular UV light source and tall build volume, Noah Deshotel on Micro-machining of injector heads for dual-phase blurring applications, and Lelia Deville on Solar Cell Testing with Lock-In Thermography (LIT).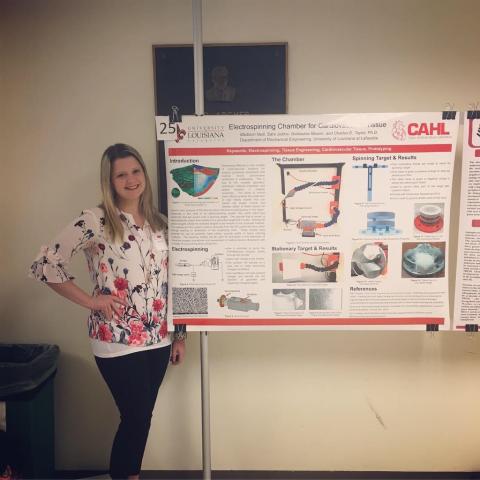 Madison Neill, senior, received 3rd place in the poster competition. Her work was done in the Cajun Artificial Heart Lab (CAHL).